Vine Terrace Apartments (renamed Nob Hill Court)
Subject:

Apartment Building

Project Number:

0594

Date:

1973

Client:

Dorothy "Dolly" Fritz-Cope, Fritz Properties

Location:

San Francisco, California

Project Name:

Vine Terrace Apartments (renamed Nob Hill Court)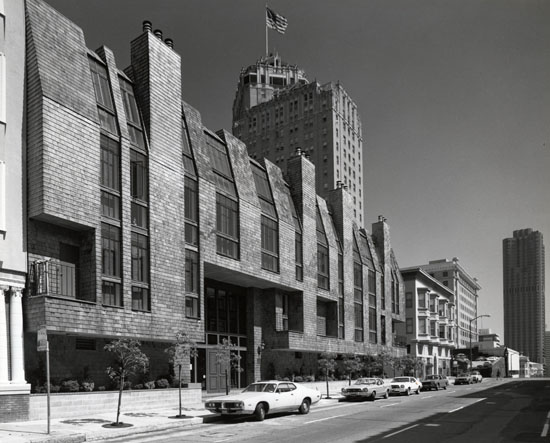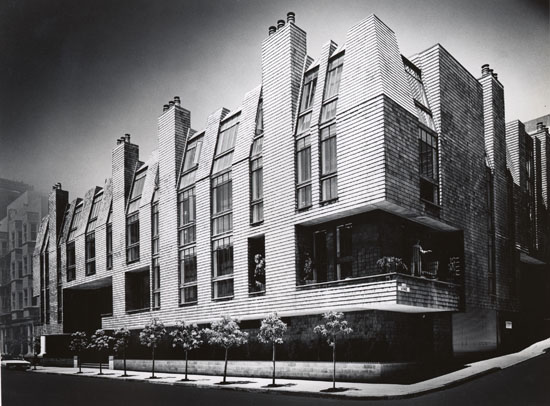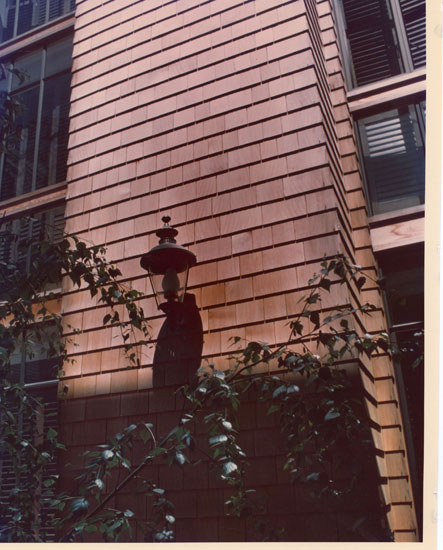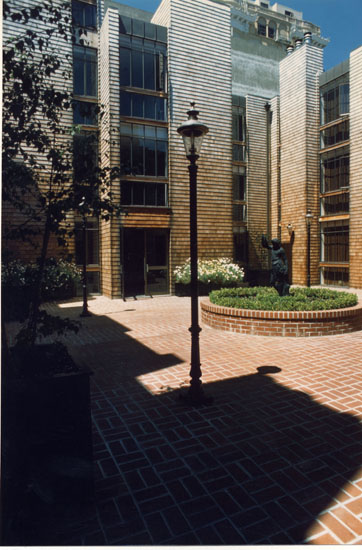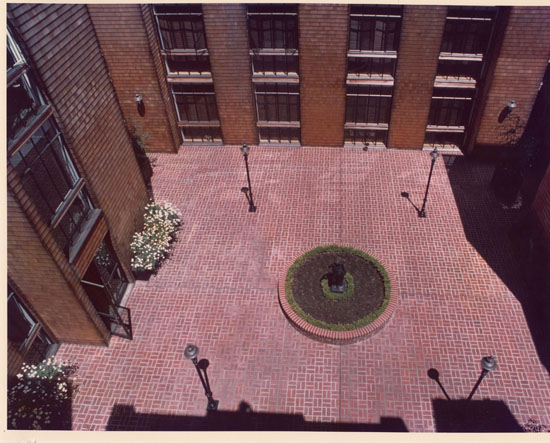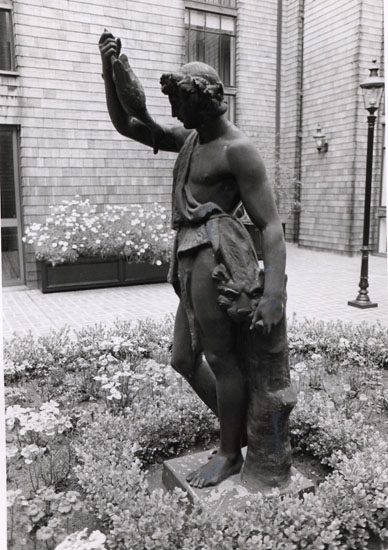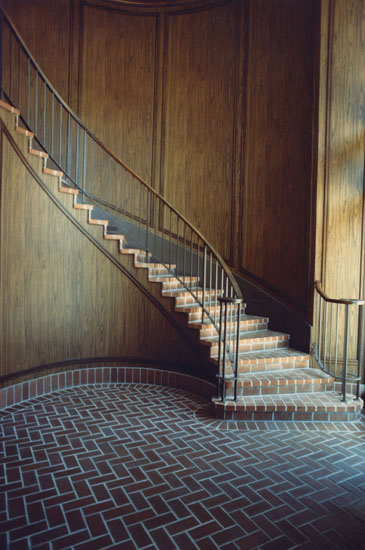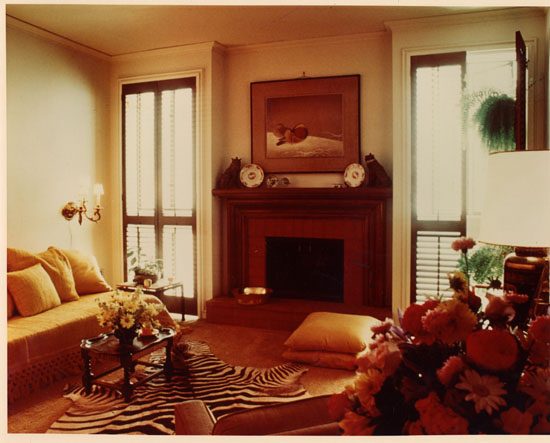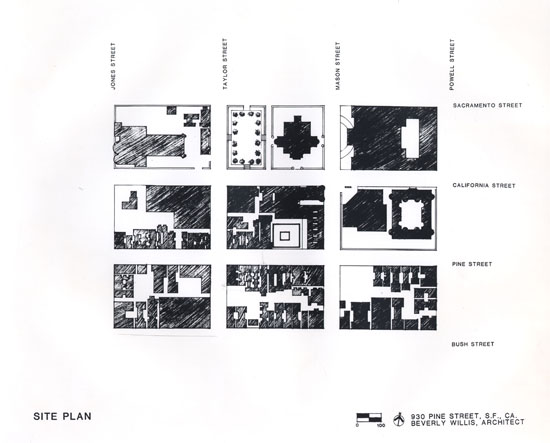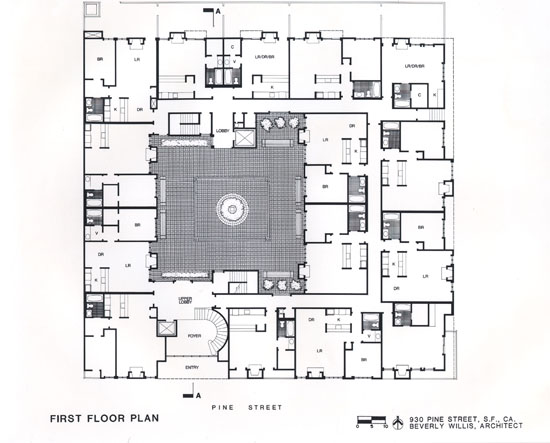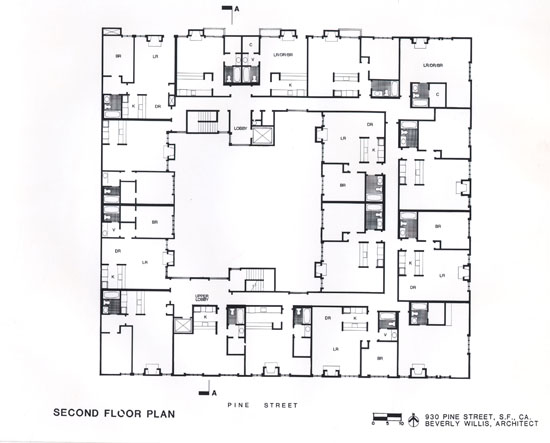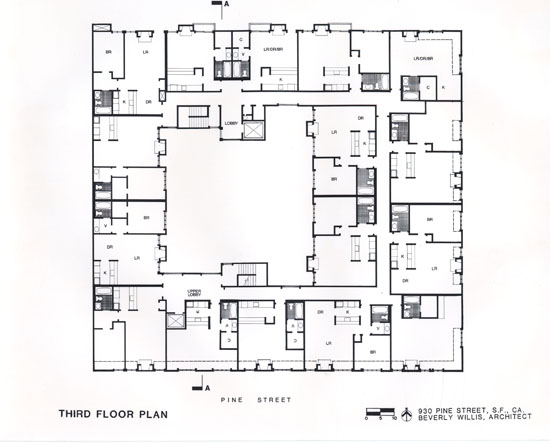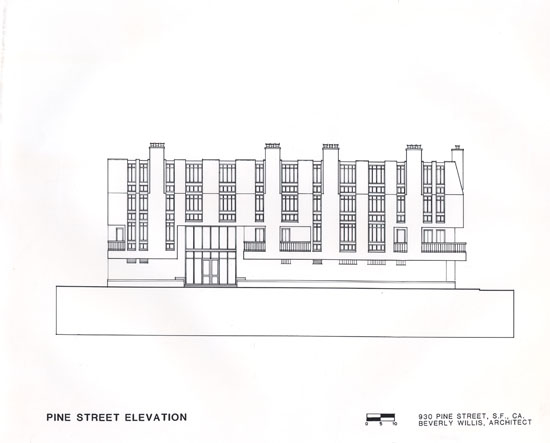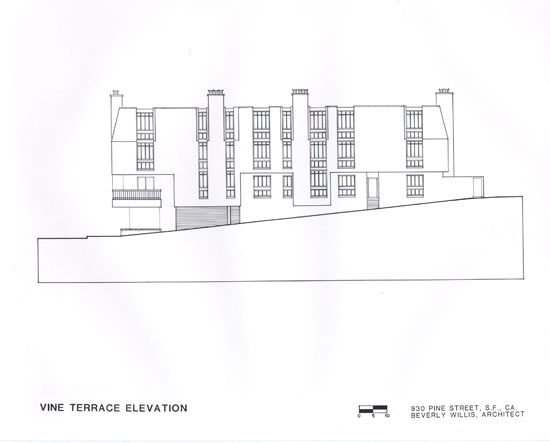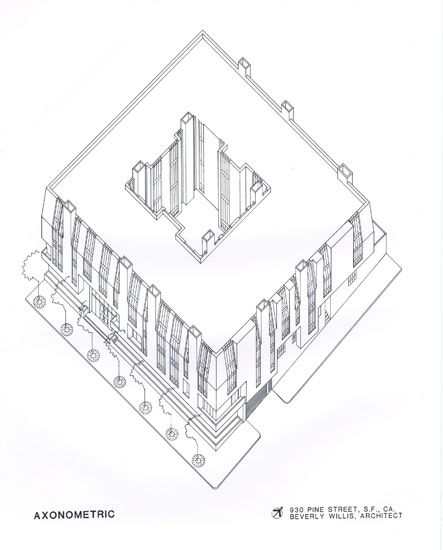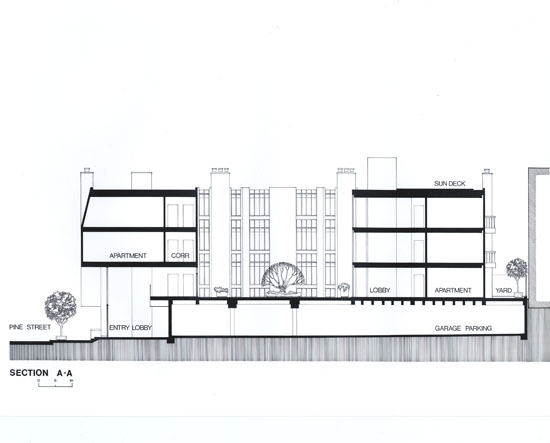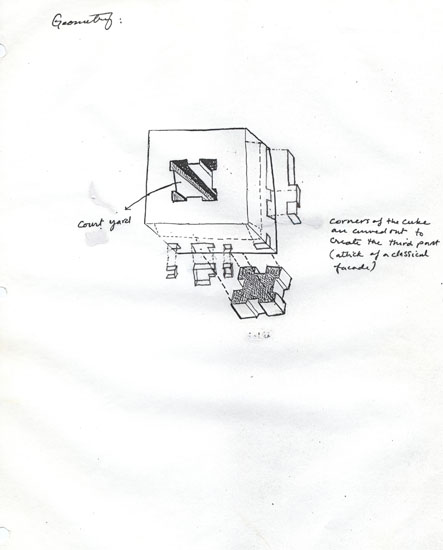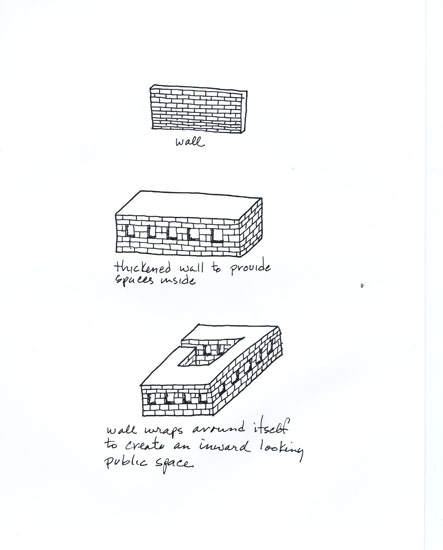 In 1974, Dorothy Fritz-Cope, a real estate investor, came to Beverly Willis with an idea to build a small, three-story apartment building in the Nob Hill area of San Francisco. The property was located on Pine Street behind the Huntington Hotel, which Fritz-Cope also owned. Fritz-Cope had purchased the property, which was zoned for a 160-foot-tall structure, as part of her plan to expand the hotel. The three-story apartment complex would be built inexpensively of wood frame construction, which could be easily demolished when the investor was ready to expand the hotel.
Upon its completion, Willis's Vine Terrace Apartments became a national topic of discussion among the development community. The building was featured in a full-page article in the real estate section of the Philadelphia Inquirer and served as a case study for the 1975 annual meeting of the National Association of Realtors, where it was held up as "a prototype project for every American city." By 1982, the building was recognized as "a landmark" of San Francisco architecture.
National discussion of the project centered on Fritz-Cope's decision to construct a three-story structure on property zoned for a much taller building, which baffled many in the real estate industry. Local residents, however, supported the construction of a smaller building and were "relieved that their Victorian homes would not [find themselves] in the shadow of a skyscraper." Built with a budget of only $1.25 million, the Vine Terrace Apartment complex contained thirty-four one-bedroom apartments, nine studios, and two two-bedroom suites. Designed with its context in mind, the elegant wood frame building stood "in harmony with the three-story Victorian residences at the foot of Nob Hill."
Located on Pine—a major one-way thoroughfare linking downtown to the neighborhood of Pacific Heights—the goal of the design was to create a quiet retreat on one of San Francisco's busiest streets. A growing challenge architects in metropolitan areas faced throughout the country at this time was how to design living spaces that offered physical and psychological refuge from the high-density urban landscape—buildings that would in essence bringing suburban-style living to the heart of the city. Inspired by the protective walls that typically surround medieval cities, Willis envisioned a fortress-like, inhabitable wall form enclosing an elevated central courtyard. Open to the sky, the large terrace provided privacy, beautiful landscaped vistas, and outdoor event space for the tenants. A roof deck accommodated more informal gatherings as well as sun bathing.
The cedar-shingled facade design fits contextually with the surrounding carpenter-built, bay-windowed structures, while it also resonates with the classical formalism adopted by San Francisco Bay regional architects. The building has "nine-foot windows that float back from the sidewalk over a lush, shrubbery-filled foundation." The street-level entrance hall leads to a two-story lobby. There, a sweeping, circular, wood-paneled staircase rises to the second-floor terrace and opens directly onto it. As an article in Savvy magazine notes, the interior courtyard and monumental staircase "recall San Francisco's grand mansions."
The detailed design of the rental apartments conveys a sense of luxury. With 10-foot-high ceilings, the living rooms appear very spacious. Tall floor-to-ceiling windows with built-in wood shutters provide a touch of elegance. Many apartments contain wood fireplaces. The studio apartments include a large, walk-in dressing closet that connects to the bathroom. Spacious open kitchens enlarge the studio space.
The Vine Terrace Apartments received the American Institute of Architects Award of Merit in 1976, in collaboration with House and Home magazine. Fritz-Cope died not long after construction finished, and the planned expansion of the hotel never took place. The apartment building was sold to a developer, who converted it to condominiums and renamed it Nob Hill Court. It remains a landmark of the neighborhood.
Barber, Jean. "Spotlight on Beverly Willis, FAIA." Women in Architecture October 1988.
Woodbridge, Sally B. and John M. Woodbridge. Architecture: San Francisco: The Guide. San Francisco: 101 Productions, 1982.
"Blueprints by the Bay." Savvy November 1982.
Powell, Jim. "Beverly Willis Listens." Savvy November 1982.
"Apartments in Town." Building Progress 1977: 6.
"Low-Rise Multis Seen as Best Solution for New City Housing." Apartment Construction News 1976: 19.
"Three Rental Winners." House and Home 1976: 86-87.
"Vine Terrace: An Architect's Answer to In-City Housing." Western Building Design 1976: 14-15.
"Vine Terrace: An Architect's Answer to In-City Housing." Pacific Coast Builder 1976: 22, 24.
"Contemporary Design with Old World Charm." Mallet Froe August/September 1976.
Teller, Oscar B. "Beverly Willis: Architect with Humanist Touch." Philadelphia Inquirer 21 December 1975.