Aliamanu Valley Community for Military Family Housing
Subject:

Master Planning Engineering & Architecture

Project Number:

0660

Date:

1979

Client:

US Government, Corps of Engineers

Location:

Honolulu, Hawaii

Project Name:

Aliamanu Valley Community for Military Family Housing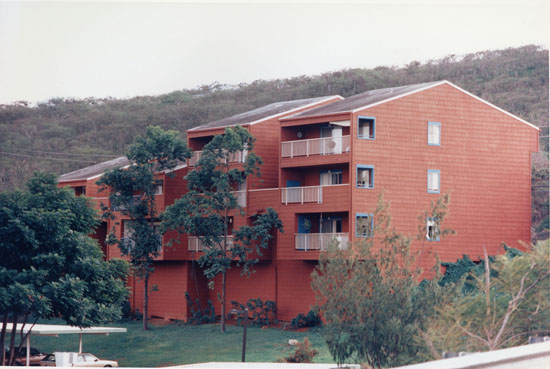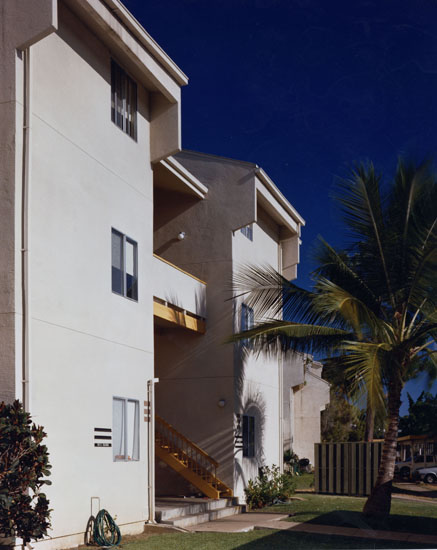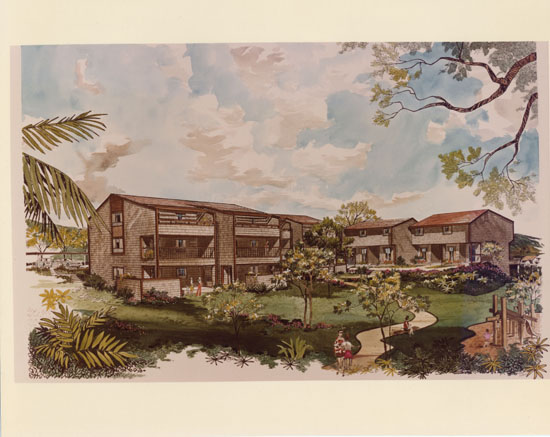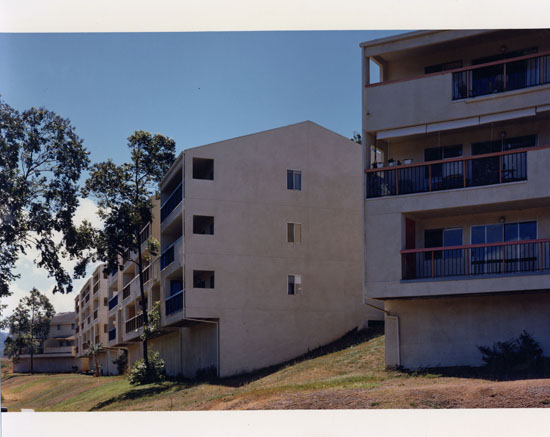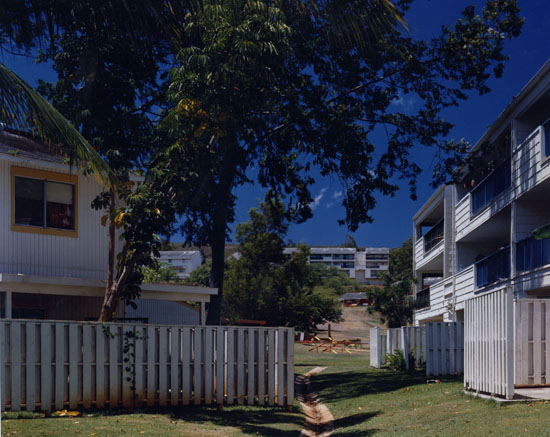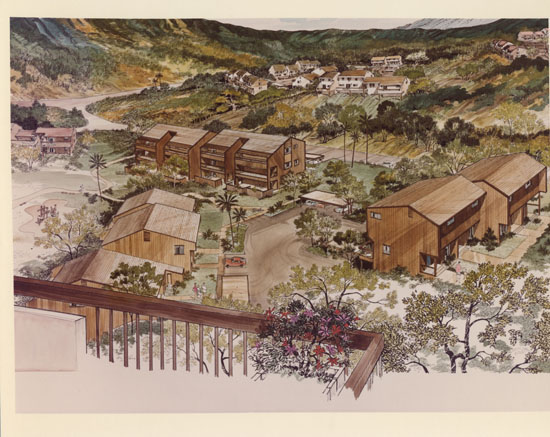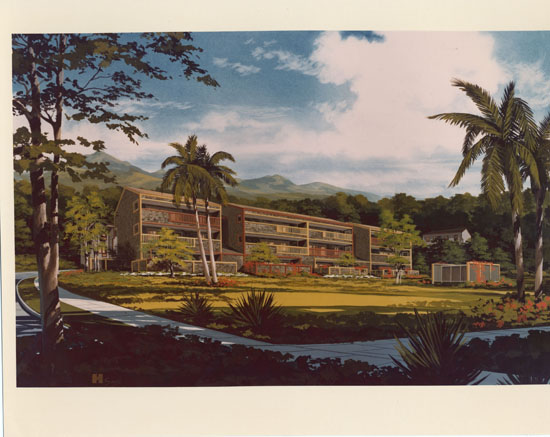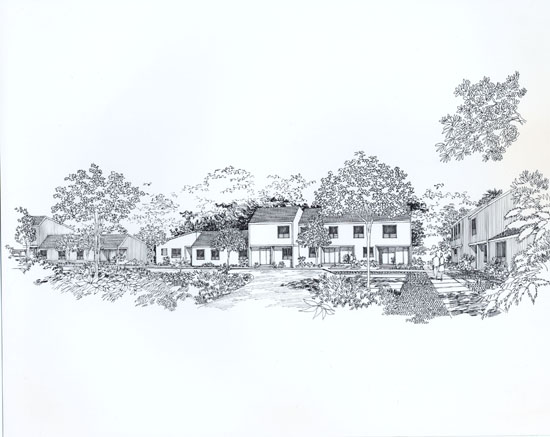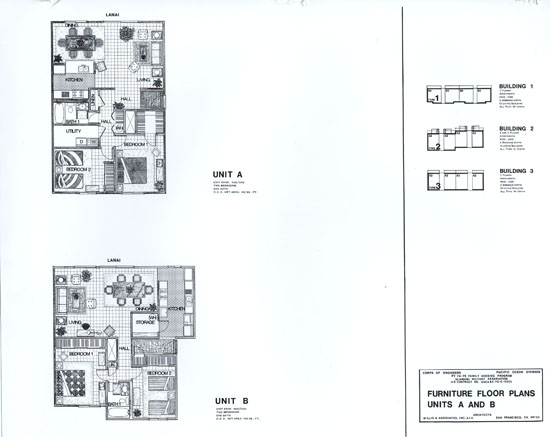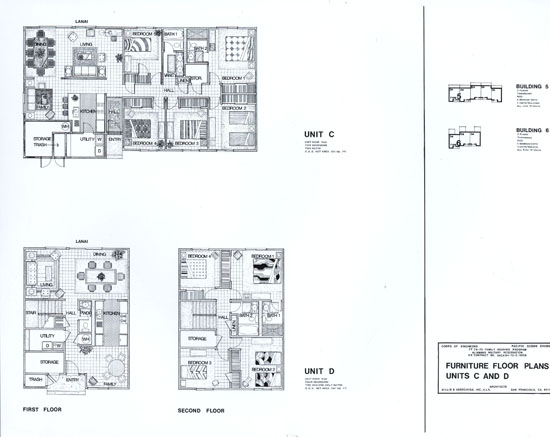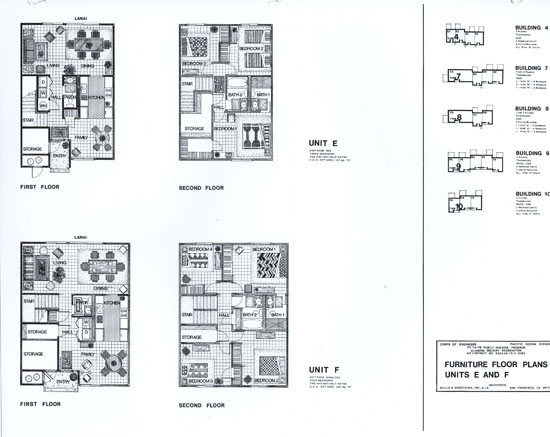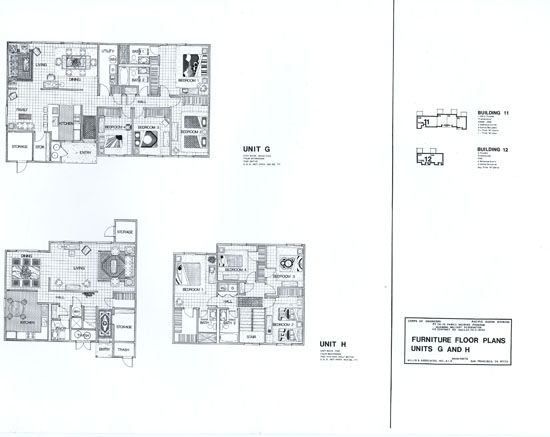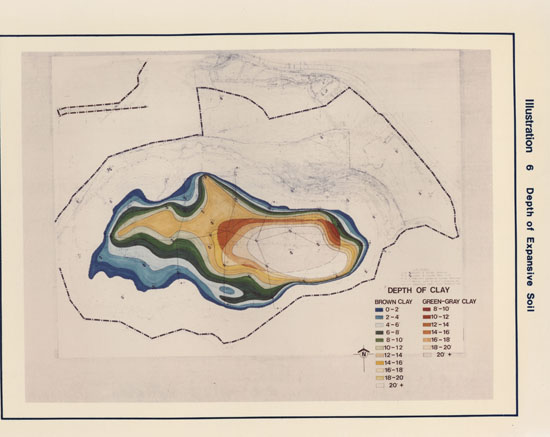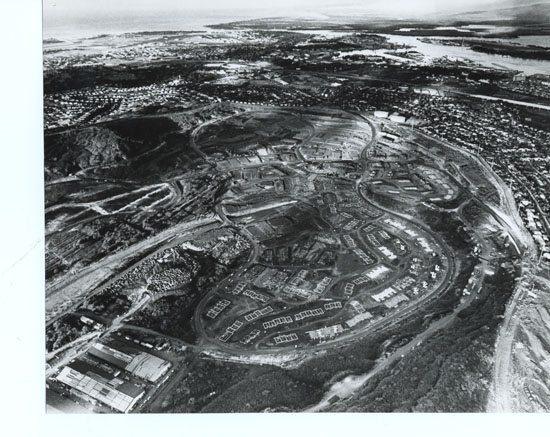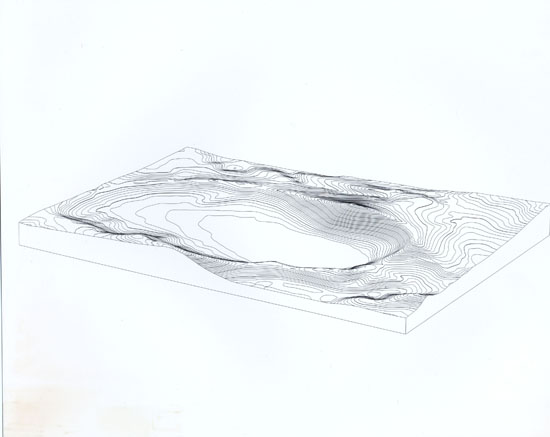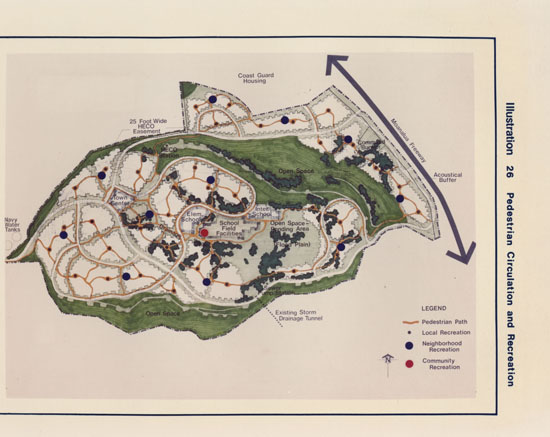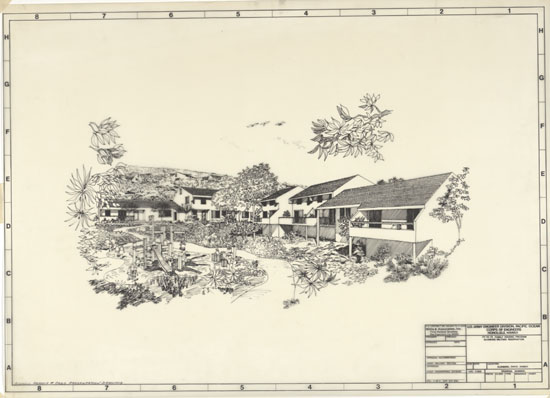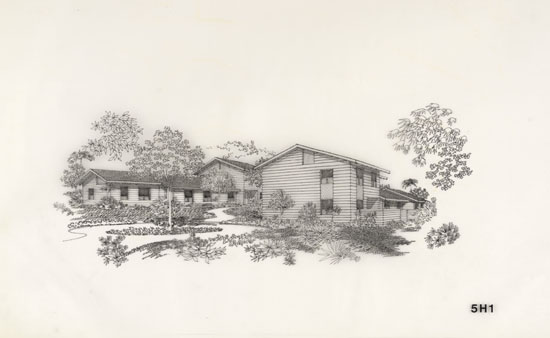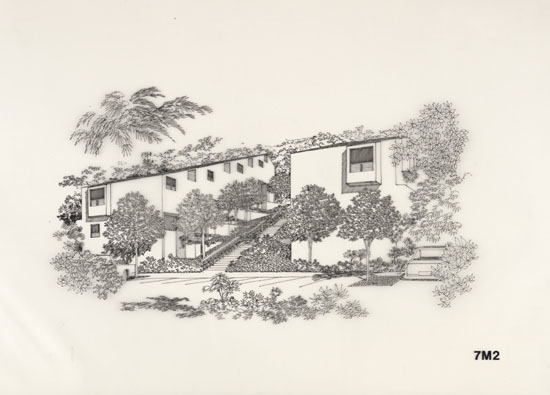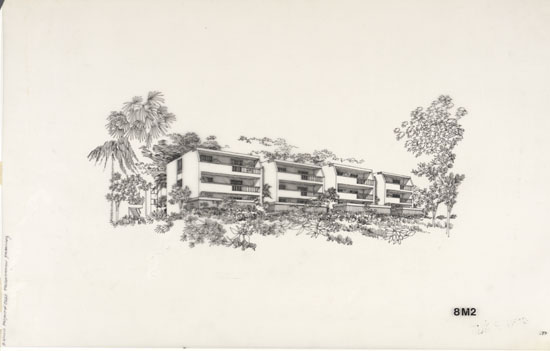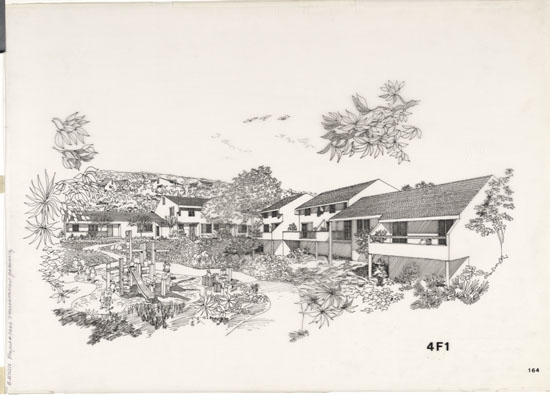 In 1974, Willis and Associates, Inc. (Willis), was awarded an architectural and engineering contract for the design and planning of the Aliamanu Valley Community, a development for the combined US Armed Forces in Honolulu. The development was to be designed to accommodate 11,500 people, housed in 525 multi-family buildings on a 524-acre site near Pearl Harbor. While the primary intent of the $115 million project was to provide housing, the plan also included buildings for schools, parks, a town center, and a fire station. The publicly funded commission was authorized by an act of Congress and executed under the supervision of General Wesley Peel and the US Army Corps of Engineers, Pacific Ocean Division. It was the first joint military housing venture in Hawaii. The community was to be planned as an Army-Navy development of a total of 2,600 family-sized apartments, with the Army occupying 1,600, the Navy 800, and Marine Corps 200.
According to the Los Angeles Times, "Before the government acquired the crater in 1932, it was used to grow sugar cane. The Army has used it as an ammunition storage depot and for training."
Willis and Associates, Inc. was the second firm to be retained to execute the project, as the first one was unable to meet the rigid budget requirements for the project.
Willis' firm was retained based on its success and national recognition for its expertise in designing large-scale multi-housing complexes on challenging sites using their computer program CARLA (Computerized Approach to Residential Land Analysis). While CARLA programs have been used across the United States, they never faced a more severe challenge than that of the Aliamanu site. The 524-acre site is in a cup-like valley with hills sharply rising approximately 420 feet high on one end and 300 feet on the other, and located on a non-active volcanic crater floor of clay and filled with empty gun and cannon shells. The solution for Aliamanu called for excavating a small, gently sloped valley, building up low-lying areas around it to make it suitable for housing and to provide drainage. In general, only enough grading was done in the area of volcanic material from the steeply rising sides of the valley to provide rock for building secondary roads on the expansive clay.
The successful execution of this project by Willis was featured by Engineering News Record in its November 1976 issue. Willis was the first woman to appear on the magazine's cover.
The key sequence in site planning for the project was computer generation of a series of printouts that analyzed the site in a variety of ways: perspective and digital elevation, degree of slope, geology and soil types, drainage, existing vegetation, existing utilities, etc. Using two computer programs––one that calculates the effect change of slope was on net density, and the other that permits juggling and adjusting literally hundreds of possible planning configurations––the planner, working between computer terminal and drafting board, can analyze 50 to 60 land use plans in great detail within a few hours. By assigning finished grades to alternative schematic plans and digitizing this data, highly accurate cut-and-fill quantities and balance can be obtained, again within hours, so that cost estimates for site development plans under construction can be made early on, in advance of the actual design.
The computer was also used to develop twelve basic two or three-story building types that could be clustered into villages to provide 2,600 apartments, and to adapt three foundation types to each building type and location. The Washington Post made note of the fact that "Willis was using a village concept made up of neighborhoods of clustered homes."
Fundamental to the development of an economical land-use plan was Willis's belief that the best site plans are those that disturb the land least, minimizing the need to reshape the existing land contours. Land planning decisions were therefore based on a simple principle: less construction means less destruction. Through the use of CARLA's analyses, Willis's plan moved 40 percent less earth than the previous firm's plans, causing less destruction to the environment and lowering overall construction costs.
The $115 million budget, while an initially a reasonable figure, proved challenging to work within, due to the delays caused by the first firm retained, the exorbitantly high construction costs in Hawaii, the site's extreme topography, and the military's schedule. Therefore, the Aliamanu Valley Community plan had to be comprehensively organized to achieve success: this meant organizing material deliveries, construction of trusses on the site itself, assuring labor availability for rapid construction, co-ordination with military review of the work, and holding classes for potential bidders, as well as organizing the architecture and engineering team's work.
Willis met the project goals of planning, designing, and engineering the 525 buildings within a record-setting nine months. The phased design and construction documents for project were completed in 1978. Construction was completed in record time.
Willis & Associates prepared eight different floor plans and twelve individual building plans to serve the population of 11,500 residents. The military also required the residential units to vary widely in square footage, as it assigned housing according to personnel rank and family size. The housing would help attract quality recruits to the military services. So that the family's furniture would fit into their new Honolulu home, the military requested housing plans similar to those in other parts of the United States. This eliminated the possibility of floor plan concepts designed for the tropics.
The site plan was divided into four villages, each containing 500 to 1,000 residential units. Each village was then divided into two or three neighborhoods of approximately 20 to 35 acres each. These neighborhoods contained three to five clusters of multi-family buildings, each with 50 to 100 residential units. The neighborhoods also included recreation centers within walking distance of every residence. Educational facilities were provided for 2,100 children from kindergarten to eighth grade and approximately 850 high school students. The land surrounding each apartment building was designed and landscaped as a play yard, without roads.
The ultimate challenge of this project was to place each apartment building on safe and stable soil. With the assistance of CARLA, Willis and Associates determined and refined the exact placement of each structure. Of the 525 concrete-on-grade foundations, only two cracked requiring additional foundation work to accommodate the unstable soil.
"Aliamanu Dominoes." Honolulu Star-Bulletin 19 March 1977.
"Update." The Honolulu Advertiser 22 February 1977.
McGrath, David J. "A-E Computerized Path to Large-Scale Housing." Engineering News-Record 1976: cover story. 3.
"Apartments, Townhouses Designed for Families in New Combined Military Community." Multi-Housing News 1976: 44-45.
U.S. Army Support Command. "Aliamanu Family Housing." Hawaii Press Release 20 August 1975.
"Aliamanu Army Navy Housing." Military Sun Press 13-19 August 1975.
Horton, Lauren. "'Coffins-in-the-Sky' Decried." Honolulu Advertiser 7 August 1975.
Maneki, Ray. "Aliamanu Architect's Proud Return to Isle." Honolulu Star-Bulletin 7 August 1975.
"Groundbreaking Held at Aliamanu." Hawaii Army Weekly 7 August 1975.
"Aliamanu, Hickam Contracts Awarded." Military Sun-Press 6-12 August 1975.
"Military Begin Joint Aliamanu Housing Effort." Honolulu Advertiser 6 August 1975.
"$6.7 Million Housing Project Set." Honolulu Star-Bulletin 5 August 1975.
"Military Housing for Hawaii." Los Angeles Times 21 June 1975.
"Work to Start on 2,600 Military Homes in Hawaii." Los Angeles Times 15 June 1975.
"Aliamanu Project Near Start." Honolulu Star-Bulletin 30 April 1975.
Morse, Harold. "Military Airs Plans for Tripler Area Homes." Honolulu Star-Bulletin 22 January 1975.
"Military Community." Honolulu Star-Bulletin n.d.
Morse, Harold. "Builders Praise Quality of Quarters." [No Paper Name], n.d.